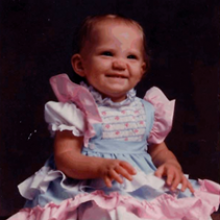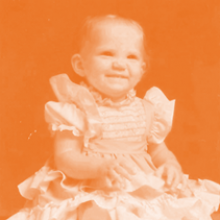 Heidi Peckover
Heidi was born and raised in Belleville, Ontario, and later escaped to Ottawa, Peru and Ecuador for higher learning purposes. Heidi grew up playing with her sister and learned how to be a cooperative game-player. Heidi enjoys soft animals, especially the overweight variety, and will cop a feel of street animals whenever possible. She enjoys walking/biking, sneezing in sequences of 2 or 3, juggling, drinking tea, and travel.
"Official" Role: Head of Client Happiness
Code Name(s): Happy Heidi, Tidy Heidi
Super Powers: Soft animal radar, light-activated sneezing, super Spanish speaking
Vulnerabilities: Bolero, idle juggling balls, furry creatures, garden flowers that require dead heading
Past Toys: Play dough, Lego, Skip-it, Nintendo, Glowworms, Spirograph, coloring, Weebles, couch cushion forts, Magnadoodle
Junk Foods: Cookies, pies, sour coke bottles, Thrills, chocolate and peanut butter combinations, and mom-made baked goods
Quotes: "Good times"; "Word"
Previous Jobs: Employee supervisor, project coordinator, garden center worker, office-cleaner, gas station attendant, chicken-catcher, canteen worker, papergirl
"Education": B.I.B. in International Business, Minor in Spanish, Carleton University Exchange student, 2005, Lima, Peru Intern, 2006, Quito Ecuador
Social Media: LinkedIn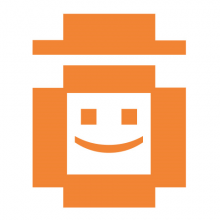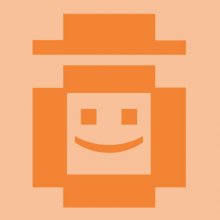 Carter Lee
Director of Product Development
"Official" Role: Director of Product Development
Code Name(s): Johnny Canuck
Super Powers: Able to make silly things seem important
Vulnerabilities: Tripe!
Past Toys: Lego, Meccano, Lincoln logs, dinky cars (I liked building stuff...lol)
Junk Foods: Donairs!!!
Quotes: "No problem"
Previous Jobs: Activision, Take Two Interactive, Beamscope, Saturn...
"Education": World education through osmosis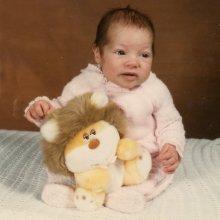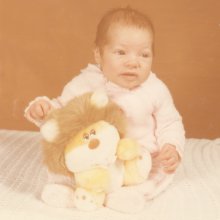 Robin Merry
Robin is a Pirate-Ninja who's really just a big kid at heart. Her not-so-secret life goal is to run away and join the circus. She has danced the tango, made copious amounts of cakes, loves to put on elaborate scavenger hunts, and will jump at any opportunity to just be outside. She is an avid lover of all things sci-fi and comic book.
"Official" Role: Production Manager
Code Name(s): Bubs(y), Beans, Bobbin, Goobs, Ann, Aunty Robin, Rob, Robbie
Super Powers: Hugs, Flight and Telekinesis, Pancake Art, Altering song lyrics to mess with parents heads, Fort Building, Master of Cartwheels, Makes snacks appear magically
Vulnerabilities: Garbage, Poor Spelling and Grammar, Pre-made Sandwiches, Spiders
Past Toys: 7' T-Rex named Reggie, Flying Monkeys
Junk Foods: Ice Cream; Cake. Sometimes ice cream and cake! Anything Vanilla. Starbucks Iced Caramel Macchiatos
Quotes: "Presentation Counts", "Cool Beans", "More the Merrier", "Oreo", "Let it go, Elsa"
Previous Jobs: Toys; always something to do with toys. Captain of the S.S. PotC. Ice Cream Scooper and Balloon Artist. Developer of the Bouncy Ball Golf League, Eldest Sister of Many (position still retained)
"Education": Masters in Toy Kitchen and Play Table Building, Trivia Engineer specializing in Group Activity Coordination, Crossword Junkie with a Minor in Sudoku, Jack of all Trades Life Learner, B.Comm University of Ottawa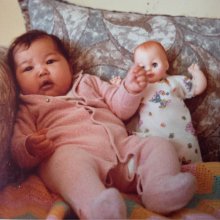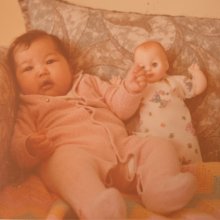 Bliss Man
Sales Manager and Product Developer
Bliss was born and bred in the great city of Toronto. She grew up in the 80's when kids could take the streetcar on their own, run around in the back alleys and buy all the 5 cent candy they wanted at the corner store. She later went on to study fashion design at Ryerson University. Soon after graduating she started a business called the Monster Factory where she created cute plush toys. After many many years of making her own toys she decided to make even MORE toys at Happy Worker. She enjoys the numerous snacks they have there and is definitely going to have to buy new pants soon.
"Official" Role: Sales Manager and Product Developer
Code Name(s): B
Super Powers: No joke, folding laundry while watching Netflix and drinking a glass of red wine. No spills to date.
Vulnerabilities: Putting said laundry away.
Past Toys: Popples and all the Barbies in the world, many of which were later given to her younger cousins without any of their clothes. Sorry cousins
Junk Foods: Chocolate and regular chips and french fry truck fries.
Quotes: "Follow your bliss" ha ha!
Previous Jobs: Co-creator of the Monster Factory and before that I worked at numerous chocolate shops
"Education": Graduated from Ryerson University for Fashion Design.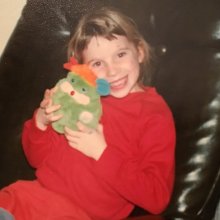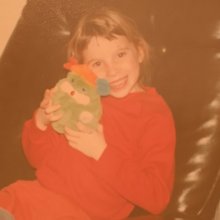 Caitlin Thompson
Happy Office Administrator
Caitlin grew up in a small town playing in the woods and making tree forts and silly movies. Her dream was to be a scientist when she grew up, so she became one. She also learned she loved organizing things and making systems more efficient, both inside and outside the lab. Caitlin co-founded and ran a geek convention in Guelph and another in the GTA, and has over a decade of conrunning experience. She's an Auntie, a cosplayer, a gamer, a soap maker, and a cat mama.
"Official" Role: Happy Office Administrator
Code Name(s): KittyCanuck
Super Powers: Super sleeping, geek convention running, coming up with wacky schemes
Vulnerabilities: Soft kitten bellies, wanting to Fix All The Things, Kickstarter, good doggos, cute animals in general
Past Toys: All the stuffed animals (ALL of them!), Super Nintendo, dinosaur figures, too many Lego sets
Junk Foods: Sour Cherry Blasters, chocolate chip cookies, cherry cheesecake, Pringles
Quotes: This could probably just be a list of old Simpson's quotes, but here's some others: "Heck yeah", "I did the thing", "Cats are awesome, cheese is tasty"
Previous Jobs: Startup office manager, molecular biologist, fan convention founder/runner, cute fuzzy hat maker, office janitor, grocery store cashier
"Education": B. Sc in Microbiology & Molecular Biology, Guelph University, Biotechnology Technologist Diploma, Seneca College
Social Media: LinkedIn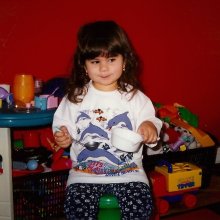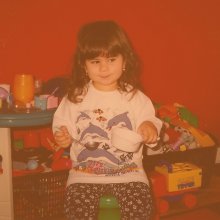 Julia Babici
Growing up Julia spent most of her time building forts with her siblings, making mini movies, drawing cartoons, sculpting clay characters and exploring the forest behind her house. She is constantly searching for hard to find books, scarier ghost stories, better music and even cooler record shops.
"Official" Role: Designer
Code name(s): Babs
Super powers: Analytical, quiet yet stealthy, aloof and mysterious nature
Vulnerability: Baby animals, things on high shelves
Past Toys: Play Mobil! Beanie babies, Etch-a-Sketch, Sega Dreamcast, K'nex, Groovy girls, Lego, Molly from the Big comfy couch, Mini accordion
Junk Foods: Cheetos, chocolate covered pretzels, sour rainbow belts, sour skittles, warheads, how many more lines do we have here? Candy apples, matcha almonds, Mochi icecream, and popcorn jellybeans.
Quotes: Don't have any!
Previous Jobs: Worked at a video and music store, record shipping, daycare worker, Science educator (volunteer)
Education: Studying Industrial Design at OCAD University (in-progress)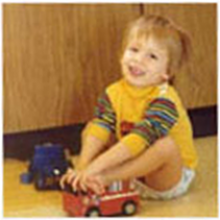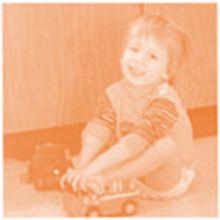 Kris Schantz
Kris was born and raised in Calgary, and as he grew up, he never grew out of his toys. Over the years Kris played trumpet, piano and drums... and even went to band camp. Several times. He enjoys hiking, except when he gets marooned on mountain peaks overnight. A learner and a sharer, Kris is intrigued by pretty much everything. He's shared his love for toy design and toy making on panels at San Diego Comic-Con and New York Comic Con. And beyond his own fun adventures in creative entrepreneurship, Kris enjoys supporting passionate young entrepreneurs.
"Official" Role: Co-Founder & Catalyst
Code Name(s): Mr. Happy Worker, Perfectionist-in-Chief, Bonne Chance/Schantz
Super Powers: Constant curiosity; Is Always Right; Bad pun making; Super tasks juggler; Crazy ideas generator; Problem zapper; Just-in-time timeliness; Idealistic optimism; Honorary Asian
Vulnerabilities: Junk food, Bad movies, Video gaming addiction, Pizza, Random acts of kindness
Past Toys: Lego, He-Man, G.I. Joe, various board games, Atari, Apple ][, NES, PCs
Junk Foods: Gummi bears, gummi worms, gummi coke bottles, gummi fish, gummi berries, chocolate bars (all), jalapeno chips, jello, homemade chocolate chip cookies, ice cream floats, chocolate cake, and, well, you get the picture
Quotes: "If it's easy to do, it's not worth doing"; "You can do it!"; "That's not a problem."
Previous Jobs: Web product manager, mad science guy (chemistry research assistant), pizza dough maker, farm hand, paperboy, lemonade stand proprietor
"Education": B. Sc. in Biochemistry, McGill University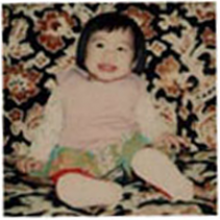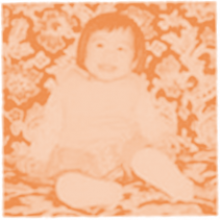 Shirley Yee
Shirley grew up in a small town in Northern Ontario, and her formative years were fairly typical: summers in Rangoon, luge lessons. Besides creating toys she also paints and writes. Some of it's actually good. (Note: but she didn't write this!)
"Official" Role: Co-Founder & Strategist
Code Name(s): Master of Elective Operations, Ms. Happy Worker, SuperMommy
Super Powers: Able to make anything & everything better; Is Never Wrong; Internet surfing record holder; Master case packer; Child wrangler
Vulnerabilities: Caffeine and sugar, Sleep, Want it all attitude
Past Toys: Etch a Sketch, Barbie-look-alikes, Smurfs, Lego
Junk Foods: Slurpees, potato chips, cheesecake, swedish berries, homemade desserts, and any junk food that Kris has bought for himself
Quotes: "What if we do it this way?"; "Where's the magic 8-ball?"; "I'm going to Google that."
Previous Jobs: Web developer, spud researcher (potato geneticist), Ice cream server at Denise's Dairy Delights
"Education": B. Sc. in Biology, McGill University
Social Media: LinkedIn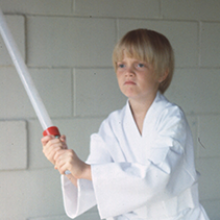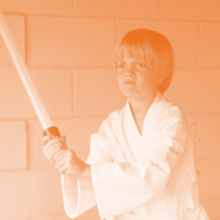 Raven Hood
Raven has over 20 years of experience as a sculptor in the model kit, collectible and toy industries with occasional adventures in computer animation. He began as tow-headed little boy playing with robots and spaceships while he watched the last missions to the moon on TV. Growing up in the shadow of his father, a commercial artist with Walt Disney, Hasbro and NASA, lead him into the family business doing a bit of everything on the film Holly Boy. While suffering the pains brought on by biz school Raven learned the art of Computer Graphics and 3D Animation. But lacking the funding for a Cray XMP his dreams went back to the boyhood hobby of model making and character sculpture. Finally finding recognition from his heros in the comic book and film industries lead to work on the Disney film Dinosaur. Raven continues to create, sculpt, art direct, and sometimes consult on properties based on the characters of Jim Henson, Monty Python, Toho (Godzilla), and all sorts of Happy Worker toys(!).
"Official" Role: Sculptor & Modeler
Code Name(s): The Raven Hood, Nevar Moore, Mold and Cast Monkey, Dark Thursday
Super Powers: The ability to see what is about to happen much to late to do anything about it!
Vulnerabilities: Synthesizers, Sculpting Tools, Plug-ins and other accessories.
Past Toys: Confessor, Rygel the XVI, Dr. Teeth, Kermit, Minister of Silly Walks, MoneyMan
Junk Foods: Rice Cakes (mmmm!), Halvah, and Gluten Free Waffles
Quotes: "Never more", "Hello World", "I got a bad feeling about this", "That's no moon… Wait that wasn't me!"
Previous Jobs: Production Assistant, Model Designer, Mold Smith, Vice-President, Sculptor, Instructor, Table Monitor
"Education": Graph Arts Apprentice, A.S.M.S., B. A. B. A., and Y.O.U.T.U.B.E.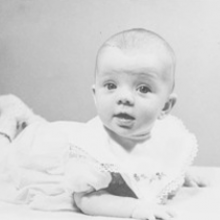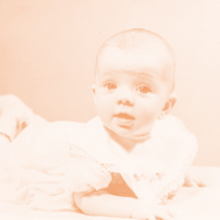 Celine Cimon
Painter & Color Counselor
Celine was born among a trolley of other kids in Ste-Foy, a town next to Quebec City. As a young girl she was fascinated by colors and shapes and soon started to make her own toys. When she was 12, Celine moved to a farm in the country which broadened her field of experimentation! She also learned to play violin, guitar and harmonica. When she turned 24 Celine decided to be a visual artist, sculptor & painter and moved to Toronto. While learning English she worked in film special effects & model making. Always focusing on her magic hands, besides painting and sculpting she's learned Shiatsu, and after much training and practice she has also become a medium.
"Official" Role: Painter & Color Counselor
Code Name(s): Queen of Color, Methylene & Styrene; Merry Medium
Super Powers: Self-teacher, Jill of all trades, Primal screamer during deadlines, Just-do-it kind of girl, Fast chocolate eater
Vulnerabilities: Chocolate (the expensive kinds), Virginia chocolate bar (sadly no longer available & Celine's still in mourning), chocolate with cherries inside
Past Toys: Paint by numbers (the more intricate, the better!); hot wheels; her father's tools; darts in the barn; transformed custom bike
Junk Foods: Green and black caramel chocolate, chocolate with nuts, lentil chips, fries, donuts
Quotes: "Celine, like Celine Dion… but I'm a little fatter and I don't sing"; "I don't believe it!"; "That's for sure!"
Previous Jobs: model maker, special effects artist, shiatsu practitioner, farm girl, typographer
"Education": CEGEP in Esthetique de Presentation
Social Media: LinkedIn