Happy Worker Toys is looking for a full-time Happy Account Manager.
Happy Worker designs and manufactures (great!) toys and collectibles. Focused in the worlds of video games and entertainment, we exist to create happy fans and happy clients. Our small team is passionate about great work, getting all the little details right, and delivering happiness.
---
Happy Worker is searching for a new teammate to help guide clients through the toymaking experience and ensure their happiness. We're looking for a self-starter and master organizer, with a professional-yet-fun attitude. You'll have real world experience with client management, project coordination, and sales. You'll bring happiness, careful organization, and proactive positive energy to all that we do.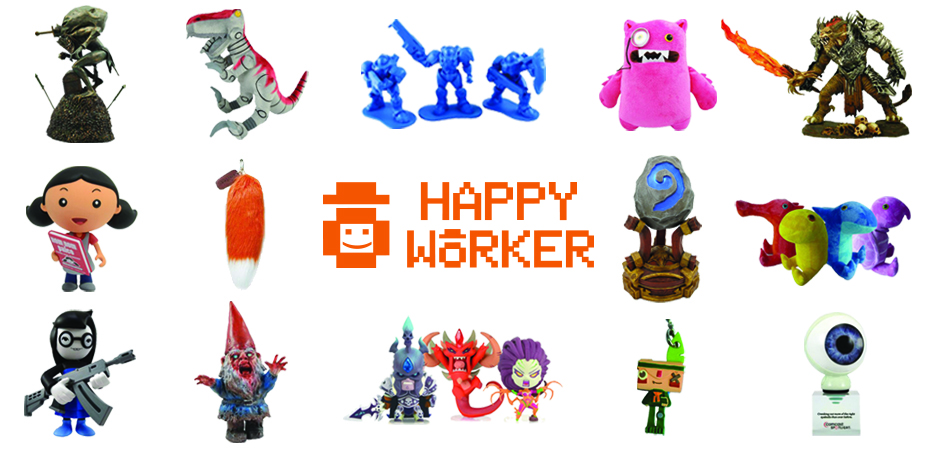 ---
Your Mission
Our Happy Account Manager will be working hand-in-hand with Happy Worker's design and production teams to ensure that client toymaking projects run smoothly and according to established budgets and schedules. The new teammate will be the point contact for new and existing toymaking clients, and will ensure that they have a positive and collaborative experience through careful expectation setting and excellent communication.
The new teammate will be responsible for:
Account Management + Client Happiness: Guide clients through the toymaking process, prototype reviews, and approvals; create and manage client schedules; provide regular updates to clients on toy development; record and track project specifications and details; communicate client needs to the rest of the Happy Worker team, coordinate with clients to gather creative assets; payment information; shipping details, etc
Customer Service + Sales: Respond to inbound toymaking inquiries by e-mail and phone, recommend options, and answer toymaking questions. Work with our team to build proposal documents and quotes
Marketing: Research prospective clients and contact companies we'd like to work with; Attend toy and video game trade shows and conventions a few times each year to meet with clients and prospective clients
Shipping: Pack and schedule courier shipments of samples and prototypes heading to clients and prospects
Reception: Greet office visitors, receive deliveries, and turn each person you meet into the happiest worker possible!

Happiness Creating: Bring honest and authentic happiness to all that you do! Help deliver on and grow our mission to instill happiness in everything that we make and do.
Experience + Talents
To be considered applicants must show that they have:
Experienced Happy Client Creator: At least several years of prior experience in an account management or senior customer service role, with an outstanding track record of creating happy clients and going above and beyond.
Excellent Writer and Communicator: Excellent verbal and written communicator; able to write detailed but easy to understand emails/documents; a great listener; able to get a point across clearly when working with people with different cultural and linguistic backgrounds.
Love of Client Services: A solutions-oriented people person who's friendly + helpful.
Passion for Details: Anal-retentive about details, with a desire to support a team by taking care of the "little picture" as much as the "big picture".
Innate Organizational Skills: A love of digital + physical organization.
Comfortable in Fast-paced Environments: A quick worker who's practiced at handling lots of to-dos and keeping track of lots of details, without dropping balls. Please tell us about your busiest work experience in your cover letter.
Expert Problem Solver: Able to find solutions to challenges, exhibiting good judgment and making the impossible happen.
Tech Savviness: Extremely comfortable with Excel - formulas, linking, charts, formatting; experienced with Office suite; expert online research skills; fast typist. Some exposure to or familiarity with graphic design software like Photoshop and/or Illustrator is a bonus.
Appreciation of Geek Culture: Passion for one or more of the following: toys, video games, pop culture, and digital culture.
Great with Numbers:  For example, easily able to calculate profit margins, BEPs, imperial to metric conversions, foreign exchange, costs-per-unit, basic algebra, ratios and averages, discounts, etc.
Diverse Work Experience: We'd appreciate seeing a resume that lists all of your previous work experiences – not just the recent positions or the ones you feel relate most to this role.
Education and Life-long Learning: A post-secondary degree or diploma in 'something'; *always* learning new things outside of school and work.
Other Unique Talents: Extreme papercrafting? Duct tape artistry? Hikaru dorodango? If you decide to apply, let us know what other special talents or know-how you'd bring to Happy Worker. Anything goes!
Something we want to know: Please let us know your favorite toy and favorite snack.
More About the Role
Employment Type: This is a full time, permanent position.
Location: Toronto, Ontario (Richmond and Spadina). Our offices are small, open-concept, and a little crazy.
Start Date: The successful new team member may begin immediately, or within a couple weeks of being hired.
Salary + Compensation: $50,000- $65,000 depending on experience; benefits will be provided after one year.  
Office Hours: 9am – 5pm (or sometimes later) Monday to Friday. Servicing our clients well and keeping projects on-schedule often means some evening and weekend work.  
Your Team Leader: The new teammate will report to Kris Schantz, our Co-Founder.
About Happy Worker
What We Do: Happy Worker designs and manufactures (great!) toys and collectibles together with video game and entertainment studios.
Our Culture: Hardworking, communicative, reliable, fun, honest, self-critical, entrepreneurial. And, of course, happy :).
What Motivates Us: Making sure our next toy is our best toy ever; spreading happiness to our clients, their fans, and everyone we come in contact with.
More Info: www.happyworker.com

Applying to Become a Happy Worker
To apply for this happy mission, please send an e-mail with your resume and cover letter to Heidi Peckover @ teammate@happyworker.com with the subject line: "I'm Your Happy Account Manager!"
In your cover letter, please answer the following 4 bonus questions:
Why do you want to be a Happy Worker?
Where do you see yourself in 2-3 years?
In past jobs/work, talk about a time when you "went the extra mile".
What are you geeky about?