Happy Worker is looking for a full-time Happy Graphic Designer (aka "Happy Designer of Great Things").
Happy Worker designs and manufactures (great!) toys and collectibles. Focused in the worlds of video games, animation, and digital culture, we exist to create happy fans and happy clients. Our small team is passionate about great work, getting all the little details right, and delivering happiness. For more about us please visit www.happyworker.com.
---
We're looking for a very special kind of person. Someone who's eager to jump in on anything + everything and do great things with a team. This role is for someone who is passionate about clean design, gaming, digital culture, enjoys fast-paced work, is good at noticing & keeping track of the pesky little details, and is an excellent writer and communicator. They're super organized and well suited to working with other perfectionists, receiving regular constructive criticism and constantly tweaking to make things better. Ultimately they're a born happy worker with a professional-yet-fun attitude!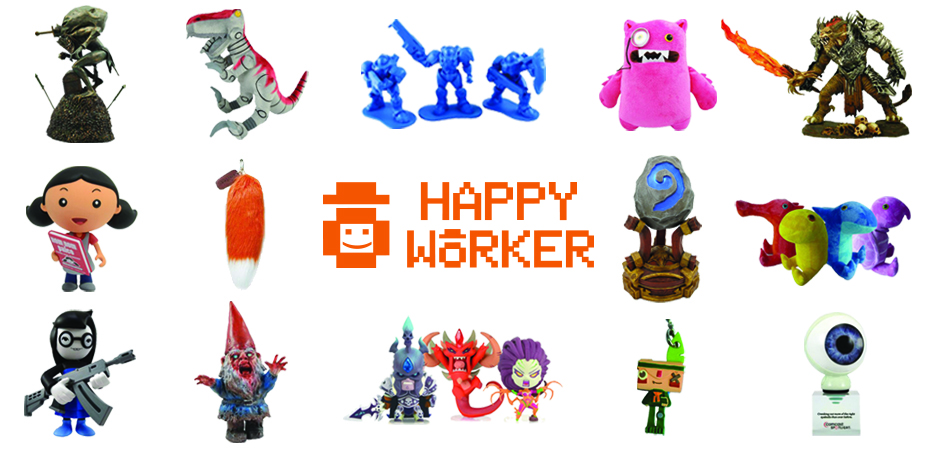 ---
Your Mission
Our new teammate will help bring new toy designs and packaging to life, by leading our graphic design and supporting our design and production teams:
Production, Packaging & Graphic Design: Create, proof, edit, and review packaging art templates, structural designs, production-ready artwork, packaging die lines, mockups, and, of course, much, much more.
Documentation and Toy Production Support: Help to create, proof, and edit a plethora of documents, including toy design specs, product blueprints, production guides and checklists… plus all sorts of other things. Communicate clearly and concisely through words, photos, and images.
Web, Social Media, Marketing, Brand: Create common design elements like collateral, brochures, portfolios, logos, etc; create exciting share-worthy graphics and content for our web site, social media, and our happy community; create designs for trade show booths and marketing campaigns.
An Integral Team Member: Be a key part of a small, very busy, hard-working and energetic team. Work collaboratively with and in support of all our teams (toy design, client happiness, production).
General Office Stuff & Various Odd Tasks: Help proactively pitch in on anything and everything that helps the team and creates happiness.
Constant Bettering & Going Above and Beyond: Make everything that we do better!
Happiness: Bring fun & happiness to all that you do!
Experience + Talents
Print Production Experience: Experience leading graphic design and handling artwork in a busy production environment, from concepts through to final artwork and print production.
Product Photography: Experience with DSLR photography in a production environment, working with lighting, angles/framing, depth of field, etc; able to take eye popping photos of toys and prototypes for production documentation, marketing materials and our website.
Excellent Writer and Communicator: Excellent verbal and written communicator; able to write detailed but easy to understand documents and emails; a great listener; past experience with business and/or creative writing, able to author design/production documentation as well as fun web content in different styles and voices
Tech Savviness: If you decide to apply, mention in your cover letter which software you know and love.
Geek Culture, Gaming, Toys, and Collectibles: A passionate toy, design and/or gaming fan, with an understanding of and appreciation for digital culture.
Detail-Driven Perfectionist: Great memory for details; you ensure every "t" is crossed and "i" dotted.
Master Organizer: Great at setting and managing priorities, task lists and schedules.
Well Rounded, Versatile Work Experience: If you decide to apply, we'd appreciate seeing a resume that lists all of your previous work experiences – not just the recent positions or the ones you feel relate most to this role.
Education and Life-long Learning: A post-secondary degree or diploma in 'something'; *always* learning new things and practicing outside of school and work.
Analytical and Good with Numbers:  Know how to calculate things like volume, scale adjustments, imperial to metric conversions, and costs-per-unit.
Working Math Skills: For example, calculating box dimensions, size ratios, volumes, percentages, and converting imperial to metric.
Comfort in Fast-paced Environments: If you decide to apply, please take a moment in your cover letter to tell us about your busiest work experience.
Other Unique Talents: Extreme papercrafting? Duct tape artistry? Hikaru dorodango? If you decide to apply, let us know what other special talents or know-how you'd bring to Happy Worker. Anything goes!
Something we want to know: Please let us know your favorite toy and your favorite snack food.
More About the Role
Employment Type: This is a full time, permanent position.
Location: Toronto, Ontario. The Happy Worker HQ is in the Queen West neighborhood. Our office is small, open-concept, and a little crazy.
Start Date: The successful new team member may begin immediately, or within a few weeks of being hired.
Salary + Compensation: $38,000 - $45,000 depending on experience; Growth opportunities and benefits will be provided after one year.
Office Hours: 9am – 5pm (or sometimes later) Monday to Friday. Servicing our clients/partners well and keeping projects on-schedule often means some evening and weekend work.
About Happy Worker
What We Do: Happy Worker collaborates with many of the world's greatest gaming and entertainment brands to design and manufacture (great!) toys and collectibles.
What Motivates Us: Making our next toy our best toy ever; spreading happiness to our clients/partners, their fans, and everyone else we come in contact with.
Culture: Hardworking, communicative, reliable, fun, honest, self-critical, entrepreneurial, and family-like. And, of course, happy :).
More Info: www.happyworker.com

Applying to Become a Happy Worker
To apply for this happy mission, please send an e-mail with your resume and cover letter to teammate@happyworker.com with the subject line: "I'm Your Happy Graphic Designer!". Please also include e-mail links to your portfolio and sample work. We especially like to see rough-to-finals progression samples and anything else you're really proud of. Pretty please ensure email is less than 10 MB.
Application end date: July 31, 2018
In your cover letter, please answer the following 3 bonus questions:
What are 2+ things you would improve with the Happy Worker web site to make it better?
Where do you see yourself in 2-3 years?
In past jobs/work, talk about a time when you "went the extra mile" and went beyond expectations.