Happy Worker Toys & Collectibles is looking for a full-time Product Designer and Developer (aka "Happy Director of Great Toys-To-Be"). Our new teammate's main mission is to collaboratively design and art direct our toys and collectibles, so that each new toy is our best ever!
Happy Worker designs and manufactures (great!) toys and collectibles. Focused in the worlds of video games, animation, and digital culture, we exist to create happy fans and happy clients. Our small team is passionate about great work, getting all the little details right, and delivering happiness. For more about us please visit www.happyworker.com.
---
We're looking for a very special kind of person. Beyond having real word industrial design and product development experience, they're someone who lives to tackle any and all challenges with oodles of optimism and cheerful can-do-ing. Self-motivated, passionate about toys, video games, and design, they get all the little details right while getting things done fast. They're well suited to working with other perfectionists, receiving regular constructive criticism, and constantly tweaking to make things better. Ultimately they're a born happy worker with a professional-yet-fun attitude!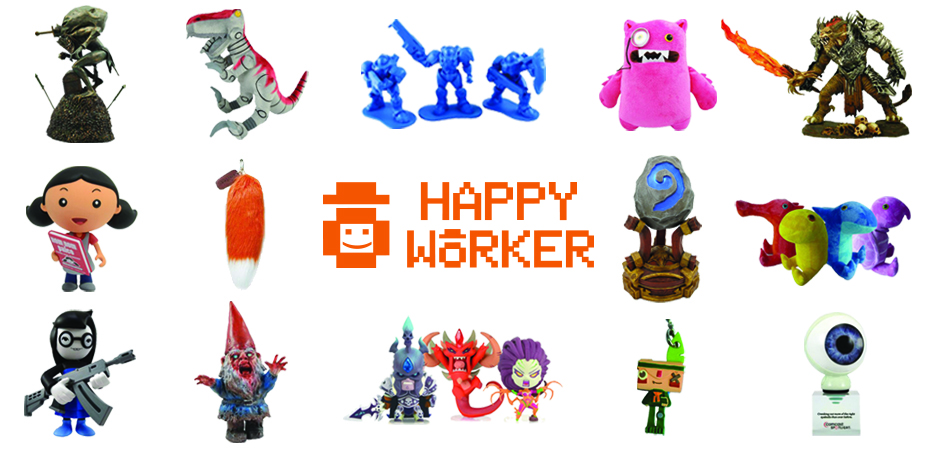 ---
Your Mission
Our new teammate will own and inspire new toys-to-be, helping us spread more toy joy and happiness!
Art Direction and Product Design/Development (~60%):
Working primarily from existing assets, characters, and control artwork, collaboratively lead and art direct freelance sculptors, painters, engineers, and factory teams.
Design, prototype, and refine new toys and collectibles at all stages of design and production. From drawings, renders, photographs, and in-person reviews, evaluate and refine works in progress, with an exacting eye for fine details and awesomeness.
Work with our team, licensors and clients to distill goals and problem solve design and production challenges.
Following our happy toymaking process, create a plethora of documents and detailed emails. For example: toy specs/requirements, product blueprints, production guides, checklists, schedules, and in-progress documents. Plus all sorts of other things to provide direction, revisions and updates for factory partners, artists, and other stakeholders.
***Important: Keeping projects on-schedule often requires some work during evenings and weekends.
3D Model Support (~10%): Art direct sculptors and modelers. Split and key 3D models, exporting as STLs. Perform 3D print diagnostics. Resolve any engineering or pre-print challenges.
Packaging Design (~10%): Design new packaging structural designs, and print templates. Working with existing assets, Create 2D print templates and/or digital models/mockups.
New Toy/Product Concepts (~10%): Design new toy and collectible concepts, from initial rough sketches to 2D turnarounds and 3D digital models or mockups. Resolve design, technical and business challenges.
Best Toy Ever: Ensure each new toy and collectible we make is our best toy ever.
Multitasking: Manage numerous design projects with a sense of urgency, carefully prioritizing workflow to meet targets and schedules.
Learning and Innovating: Research and recommend materials and methods for new toys. Improve our design and development skills, capabilities, process, templates, and standards.
Toys and Collectibles Market Trends: Provide insight on art and design, toys and the collectible industry, video games, and geek culture.
Creative Community: Help nurture our happy creative community, Happy Worker's network of freelance designers, sculptors, modelers, painters, pattern makers, etc.
Travel to Asia: Occasional travel to China to work directly with our factory partners when/as needed.
An Integral Team Member: Be a key part of a small, very busy, hard-working and energetic team. Work collaboratively with and in support of all our teams (toy design, client happiness, production).
Cheerful Customer Service: Help our client happiness team respond to toy-making inquiries by understanding project goals, participating in e-mails/phone calls, laying out project options/specifications, and helping with budget estimates and schedules.
Web, Blog, and Social Media: Help design and create share-worthy content for our website, blog, and other social media. Take photographs of toys. Help with creation of marketing materials.
General Office Stuff & Various Odd Tasks: Help proactively pitch in on anything and everything that helps the team and creates happiness.
Constant Bettering and Going Above and Beyond: Make everything that we do better!
Happiness: Bring fun and happiness to all that you do!
Experience + Talents
Talented Designer and Creative: Excellent traditional and digital portfolio demonstrating strong sketching ability, design and technical skills; human and animal anatomy; experienced at working in a wide range of creative projects/assignments; strong expertise with Adobe Creative Suite and with one or more flavors of 3D modeling/digital sculpting/CAD software; demonstrates good process techniques and ability to assimilate constructive criticism.
Toy and/or Product Design Experience: Real-world work experience designing in a busy production-oriented environment, preferably with toys, collectibles, or aesthetic, high detail consumer products; knowledgeable with the prototyping and model making process, designing to cost, and designing for manufacturability while pushing conventional limits.
Excellent Writer and Communicator: Excellent verbal and written communicator; able to write detailed but easy to understand emails/documents; a great listener; able to get a point across clearly when working with people with different cultural and linguistic backgrounds.
Analytical and Good with Numbers: Know how to calculate things like volume, scale adjustments, imperial to metric conversions, and costs-per-unit.
Geek Culture, Gaming, Toys, and Collectibles: A passionate toy, design, and gaming fan, with an understanding of and appreciation for digital culture, gaming, comics, toys, and collectibles.
Well Rounded, Versatile Work Experience: If you decide to apply, we'd appreciate seeing a resume that lists all of your previous work experiences – not just the recent positions or the ones you feel relate most to this role.
Knowledgeable with Materials and Production Methods: For example, 3D printing, injection molding and plastics, rotational casting, resin molding and casting, fabric cutting and printing, sewing, painting techniques including washes, dry brushes and airbrushing; short-run prototyping, offset and digital printing, vacuum forming, blow molding, etc.
Detail-Driven Perfectionist: Great memory for details; you ensure every "t" is crossed and "i" dotted.
Master Organizer: Great at setting and managing priorities, task lists and schedules.
3D Modeling: Expertise with 1 or more flavors of 3D modeling (NURBS/polygon) and/or CAD software: Zbrush, Maya, Solidworks, Modo, Rhinoceros, 3DS Max. Ideally some experience with 3D print pre-processing (Rhinoceros, Magics, etc). Readiness to learn other software to be cross-functional and deploy best tool for each project.
Expert Problem Solver: Able to find solutions to challenges, exhibiting good judgment and making the impossible happen.
Tech Savviness: If you decide to apply, mention in your cover letter which software you know and love.
Education and Life-long Learning: A post-secondary degree or diploma in something related to design; *always* learning new things and practicing outside of school and work.
Comfort in Fast-Paced Environments: If you decide to apply, please take a moment in your cover letter to tell us about your busiest work experience.
Photography: Experience with DSLR photography in a production environment, working with lighting, angles/framing, depth of field, etc.
Other Unique Talents: Extreme papercrafting? Duct tape artistry? Hikaru dorodango? If you decide to apply, let us know what other special talents or know-how you'd bring to Happy Worker. Anything goes!
Something we want to know: Please let us know your favorite toy and favorite snack.
Nice-to-Have (but not required) Experience + Talents
Knowledgeable with Overseas, "Made in China," Manufacturing: Experience setting production requirements and managing engineers remotely, negotiating, and an understanding of Chinese business culture; relevant experience with project management, operations, and logistics.
Understanding of QA & QC Testing: Some exposure to QC testing, sampling, AQLs, and industry best practices in QA.
Informed about Social and Regulatory Compliance: Some exposure to lab testing and toy and product safety regulations (Health Canada, CPSC/CPSIA, ASTM F963, EN:71).
More About the Role
Employment Type: This is a full time, permanent position.
Location: Toronto, Ontario. The Happy Worker HQ is in the Queen West neighborhood. Our office is small, open-concept, and a little crazy.
Start Date: The successful new team member may begin immediately, or within a few weeks of being hired.
Salary/Compensation: $42,000 to $60,000, based on experience; growth opportunities and benefits will be provided after one year.
Office Hours: 9am – 5pm (or sometimes later) Monday to Friday. Servicing our clients/partners well and keeping projects on-schedule often means some evening and weekend work.
Your Team Leader: The new teammate will report to Kris Schantz, our co-founder.
About Happy Worker
What We Do: Happy Worker collaborates with many of the world's greatest gaming and entertainment brands to design and manufacture (great!) toys and collectibles.

What Motivates Us: Making our next toy our best toy ever; spreading happiness to our clients/partners, their fans, and everyone else we come in contact with.
Culture: Hardworking, communicative, reliable, fun, honest, self-critical, entrepreneurial, and family-like. And, of course, happy :).
More Info: www.happyworker.com.
Applying to Become a Happy Worker
To apply for this happy mission, please send an e-mail with your resume and cover letter to teammate@happyworker.com with the subject line: "I'd like to be a Happy Product Designer!" Please also include links to or sneak peeks at anything else you're really proud of. Pretty please ensure email is less than 10 MB.
Application end date: July 31, 2018
In your cover letter, please answer the following 3 bonus questions:
Where do you see yourself in 2-3 years?
Outside of school and work time, how do you learn new things, and improve your skills and knowledge?
Tell us about a product (toy or otherwise) that you collaboratively designed, developed and manufactured, and what challenges you and your project team overcame to ensure the best finished product with happiest clients/users.