Who + What
Conceived and designed by The Dark Garden, the Gnombie figurine combines three of the company's core passions: zombies, gnomes, and gardening. Though a mere 6" in height, the Gnombies are large enough to horrify grown adults, and might even scare those pesky rabbits out of the garden for good.
How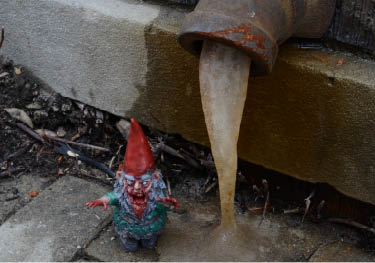 The Dark Garden partnered with Happy Worker to produce the Gnombies, based on a one-of-a-kind sculpture by The Dark Garden. Along with producing the heavy-weight resin figurines, Happy Worker also designed the Gnombies colorful packaging and Styrofoam insert, shipping the order to The Dark Garden for distribution around North America and beyond.
Throughout the year, the Gnombies stay busy bringing terror to faces of event-goers around North America, at horror conventions, Comic Cons, and online through the Gnombies store. Charmingly photogenic, they're also busy making appearances on the Gnombies Facebook page as they tour the continent.