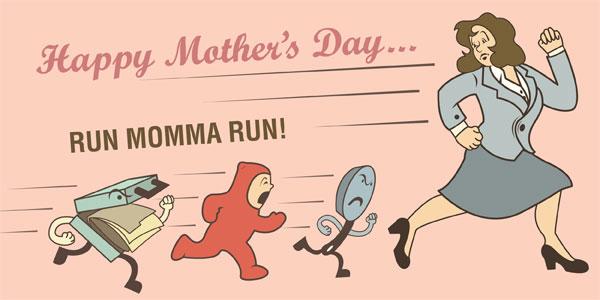 Mom kisses our boo boos better, produces saliva with incredible cleansing properties and stays on call 24/7. With these and other inhuman super powers, at times it seems that Super Moms are fueled by child-rearing satisfaction itself. Mother's Day is the perfect opportunity to show Mom that her sweet mommy goodness brightens your life.
> Mom ecards (The Mother Load - for real)


> Personalized and printable mom diplomas
(including the shocking number of hours your mom's sacrificed to raise you...)
> More Mom Fun
Our SuperMom Action Figure + Mom Coloring Pages + KidZilla Poster
And a bunch of stuff we've researched and gathered about moms...
> Fun Mom Facts (including the colossal number of diapers your Mom changed before your 2nd birthday...)
> Mom Quotes & Sayings
> Mommy Movies for Film Fanatic Mother
> Celebrity Moms & Famous Mothers
Happy Mother's Day!
- Happy Worker bunch                                         
| | | |
| --- | --- | --- |
| | | Send to Mom |

---